Microsoft Dynamics 365 Business Central (formerly known as Navision/NAV) is a cloud-based or on-premises commercial Enterprise Resource Planning (ERP) software. Business Central streamlines, automates and integrates business functions across various departments in order to create organisational unity and optimise business process efficiency. Users can choose from the Essentials or Premium package which offer the following features and benefits:
Business Central is a world-class, state-of-the art product developed by Microsoft, the world's industry leader in software and technology. Austral Dynamics is dedicated to helping businesses to implement Business Central into their functional day-to-day business processes to enable digital transformation. We have the experience and expertise to customise and implement the software whilst also providing in-depth Business Central training to SMEs.
Business Central is a powerful and comprehensive evolution of the Business Central product. Users enjoy the same rich functionality as Business Central but with added benefits such as full flexibility to deploy the software in the cloud or on-premises.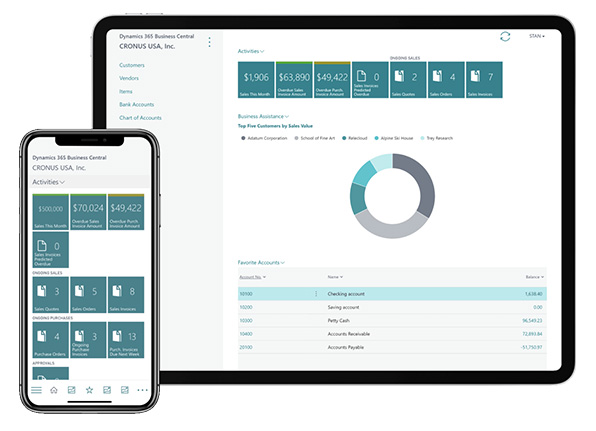 Why Invest In Business Central for Your Business?
Simple, Integrated System
Business Central unifies your business' financial, manufacturing, sales, supply chain, marketing, project management, human resources, and services functions in one compact software. This eliminates the need for additional software that contain various functions, which risks inefficiencies and may require additional training and maintenance costs.
Improved Productivity Levels
Business Central is designed for easy user interface. Your employees can enjoy simple user accessibility and can customise the software to accommodate their individual needs, depending on their role and department. With reduced inefficiencies in utilising the software, your staff can streamline their workflow, which will help boost productivity.
Increase Your Financial Visibility and Performance
With the implementation of a smart ERP system like Business Central, you can accelerate your financial closing and reporting with the integration of general ledger, sales ledger, accounts receivables and payables as well as fixed asset data. Business Central will also improve your forecasting through connected reports, charts and Power BI data across accounting, sales and purchasing. Using this data, you can gain powerful insights and make more profitable financial decisions with confidence. Get real-time metrics such as built-in reports, Excel, Microsoft Power BI and unlimited data dimensions to get up-to-date cash flow, recognise financial patterns and analyse trends to monitor your financial performance.
Rapid Implementation
With years of expertise under our belt, Austral Dynamics' consultants are able to rapidly and effectively implement Business Central (aka Business Central) to suit individual business needs to the highest standard. We provide guidance, support and maintenance every step of the way to ensure that Business Central is the right product for your business and integrates seamlessly into your daily business operation.
Complete Projects On Time and Under Budget
In Business Central, you can facilitate the successful and timely execution of a project through the unification of job configuration, job costing, resource scheduling, budget management and progress monitoring. You can also track machine and employee hours on the project by using time sheets and real-time intelligence data.
Optimise warehouse and supply chain management
Business Central allows businesses to deliver products on time and adapt to changing business models with visibility across purchasing, manufacturing, stock, and warehouses. Maintain relationships with suppliers and ensure compliance with internal and external policies with process governance and approvals. This powerful system also allows businesses to easily move items between locations to control the quantity on hand using cycling counting. Additionally, improve your organisation within storage facilities, streamline receiving and capacity, expedite docking and shipping as well as connect customers and operations.
For more information regarding Business Central and why ERP may be the solution for your business, call Austral Dynamics today for a free demo or to talk to one of our experts.